Qualcomm is one of the popular CPU systems for smartphones. The CPU system is one of the USPs of every smartphone nowadays which delivers a big step up in graphical capabilities, photography, machine learning, and more. Qualcomm announced its latest chipset Qualcomm Snapdragon 888 5G on December 1, 2020, and every brand is competing to get their hands on this latest chipset. Snapdragon will come with various futuristic features such as the Snapdragon X60 modem which will bring both mmWave(millimeter wave) that is above 24 GHz and sub-6 GHz connectivity to the phone. In simple words, these high frequencies have very large bandwidths, which paves the way for potentially faster speeds. This is the first time Qualcomm is bringing both mmWave and sub-6 GHz to smartphone's life.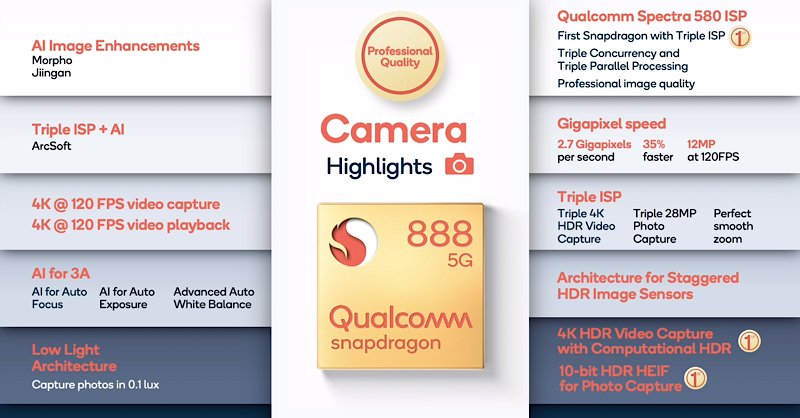 Qualcomm Snapdragon 888 is packed with next-generation features to bring you truly unparalleled mobile photography with AI Image enhancements and the best video experiences.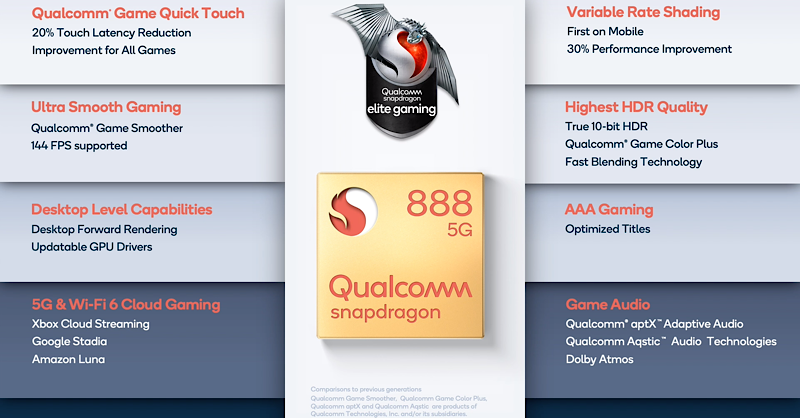 Snapdragon 888 continues to transform mobile devices into powerful gaming machines for an elite gaming experience with 20% Touch Latency Reduction and overall 30% Performance Improvement. Qualcomm Snapdragon 888 will offer some Desktop Level Capabilities that include Updated GPU drivers for fast desktop forward rendering with the Highest HDR quality visuals(10-bit HDR).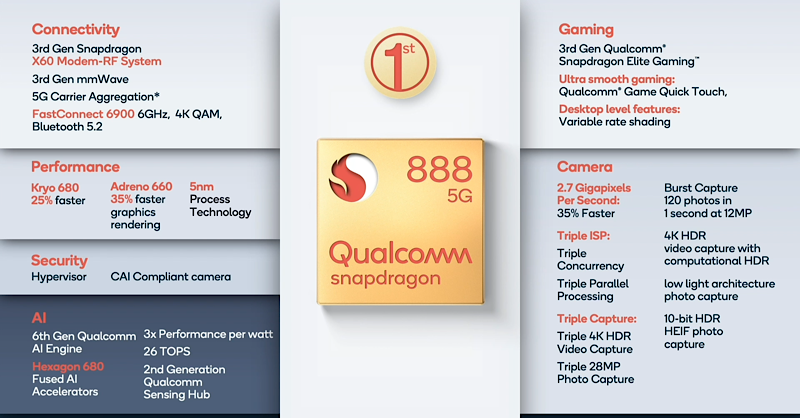 Snapdragon 888 is all set to take on the competition, and here's the list of upcoming Snapdragon 888 supporting smartphones:
Xiaomi Mi 11
Xiaomi Mi 11 Pro
OPPO Find X3 Pro
Nubia Red Magic 6
Nubia Z
Nubia ZTE Axon 30
OnePlus 9 series
Upcoming Moto Edge+ flagship device
Realme Race
Asus ROG Phone 4
Motorola Moto G series and many more rumored.
Qualcomm also displayed an infographic at its event, revealing all the confirmed brands that will be using the Snapdragon 888 in the coming year(2021).