Earlier today(5th February 2021), Xiaomi tweeted something about kick-starting the February month with something new and innovative that apparently would be "mind-blowing". Exactly after 3.5 hours, another tweet followed up which revealed Xiaomi's first Quad Curved Waterfall Display Concept Smartphone, which features a curved display on all four edges of the device.
Xiaomi smartphone with waterfall display
The Chinese tech giants shared an image poster that reveals the concept device. Looking closely, we can notice that all four edges of the device are curved at an angle of 88 degrees. Curved edges are not a new thing in today's world, in fact, we have already witnessed this from Samsung when they launched its flagship Galaxy S series and Galaxy Note series flagship smartphones back in 2015. But with Xiaomi introducing all four edges curved is something that we have never seen before. Xiaomi's first-ever Quad Curved Waterfall Display Concept Smartphone is well and truly a unique handset that also signifies the term 'innovation'. From the front, the device would seem to be mostly covered by the display, except the corners.
When you enter the home screen, normal status icons are displayed, including battery indicator and network strength. When you open any application, operating icons for that particular application are displayed. Consider, for example, the media player, you can actually pause or skip a track from the side panel of the device.
Xiaomi has stated that they have achieved the quad curve 88-degree surface through "countless breakthroughs in glass bending and laminating technology to extend the limits of the display to infinity." The company also claimed that the smartphone will feat a true port-free unibody design and has been built using a total of 46 different "groundbreaking" patents.
Xiaomi phone with an under-screen camera
The patent is more focused on the user interface and the back. The top and bottom part of the phone is not patented. And what really catches our attention is the rimless front. Despite the fact that a narrow receiver can be seen, it remains a mystery what kind of selfie camera Xiaomi has planned for this smartphone.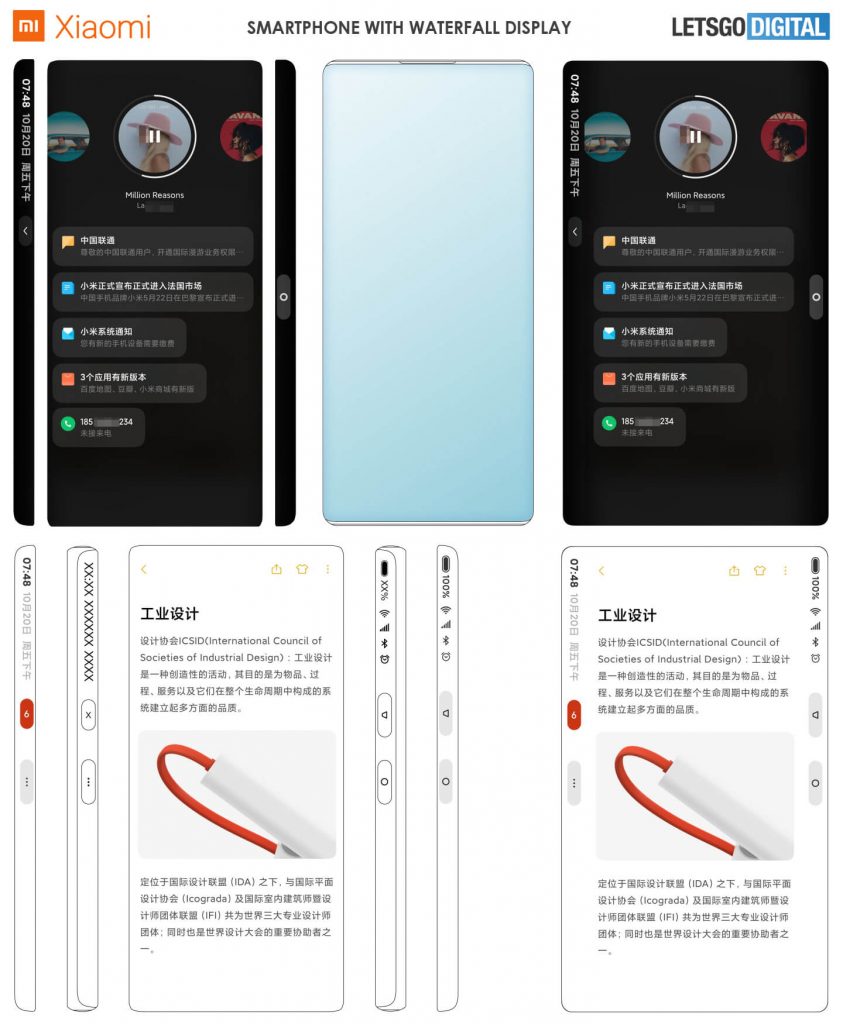 If Xiaomi were to opt for a punch-hole camera or a notch, this should be apparent from the user interface, which is not the case here. Therefore it strongly seems that the Chinese tech giants intend to provide an under-screen camera with this smartphone.
Back in 2019, Xiaomi and OPPO displayed a prototype smartphone with an under-screen camera. However, none of them have yet introduced any such smartphones with this type of front camera. Nonetheless, the first device with an under-screen camera is expected to hit the market within this year.
A major concern regarding this device would be its durability. Having more edges as glass/display makes it more prone to cracks even from simple falls. All and all, with this futuristic and eye-catching concept, Xiaomi has taken a big step into the future technology. Exciting times are ahead of us, as we wait for Xiaomi to officially unveil the product.
You can view the full patent of the Xiaomi phone here.